GemSeal Rewards 
Customer Loyalty
How would you like to earn free travel to a secluded beach? It's easier than you think! GemSeal is grateful when you decide to do business with us. We know you have many options, and we're happy when you choose to purchase our sealers, paints, crack sealants, and other products or equipment. As a way of thanking you for your loyalty, we have designed a program to reward your purchases. With GemSeal Rewards, you can earn points on every purchase toward travel to exotic destinations, entertainment, home goods, and more! Get started today and ACTIVATE YOUR ACCOUNT.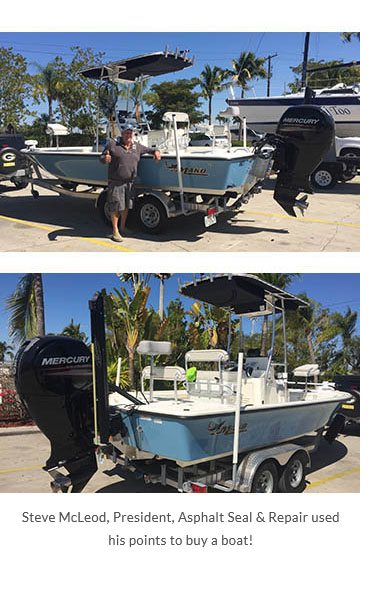 How it Works:
Purchase any Qualified Products–including equipment rentals*
Accumulate points based on payments made to GemSeal (existing customers can earn two types of points under the program–Regular Points and Growth Points; new customers can earn only Regular Points in their first year in the program)
Use your points to buy valuable merchandise and trips
*Note: Qualified Products do not include specific or imputed delivery charges, fuel surcharges, pallets, other non-product charges, sales tax, or other taxes which may be charged by GemSeal.

Earning Points:
Regular Points are earned by all customers based on 2017 spending level–up to six (6) points for every dollar spent may be earned; points are deposited in your account after you have paid your invoices
Growth Points can only be earned by existing customers–points are awarded after a customer's 2017 purchases reach the amount of purchases he or she had in 2016; four (4) Growth Points will be earned for each additional dollar of purchases
Regular Points will be deposited into customer accounts within 15 days of the end of each month in which you earned and paid for them
Growth Points are calculated and added in December
Login for full details concerning points and spending levels

Redeeming Points:
On the Rewards Site, click View Awards on the top navigation bar to view all available awards. Please allow 4-6 weeks for processing and delivery.