The customer experience starts in the parking lot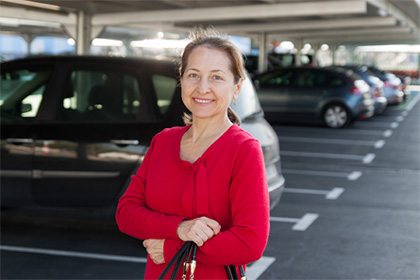 Sealcoating protects your pavement; but, its jet-black color also contrasts nicely with striping, making it easier for people to navigate safely around your business. When applied routinely, these procedures enhance your image and serve as a good indication of what customers can expect on the inside.
Conversely, unsealed asphalt is subject to the harmful effects of weather and other irritants such as oil and salt, all of which accelerate aging and result in cracking, loose asphalt, and potholes. These hazards can lead to slip-and-fall injuries as well as vehicle damage, which is bad for your image and the bottom line.
Get the results you pay for
We understand that parking lot maintenance is a costly component for any commercial property. While resurfacing asphalt cannot be avoided, it can be prolonged with the right products and application process.
Not all pavement products are the same. GemSeal pavement preservation products–including our crack sealants, sealers, and striping paints–are engineered with unique properties to address individual site conditions such as traffic load and climate. We also use a precision colloid mill process, which produces the most consistent and uniform products for superior coverage and durability.
Now, pavement preservation may not be your area of expertise, but it has been our only focus and passion since 1957. Our experienced representatives can help you select the right product and application process. When you present this specification to your contractor, you will get the results you paid for. And, with a routine program, it is possible to prolong the life of your pavement from a 10- to 12-year service life (unsealed) to 25 years or more.*
Want more reasons?  GemSeal has a successful track record working with Fortune 500 companies ranging from hotel and apartment complexes to large retail centers. Put us to the challenge and see for yourself.
*Source: NDOR 2005 Pavement Maintenance Manual and 2002 CA City of Seal Beach Pavement Management Report