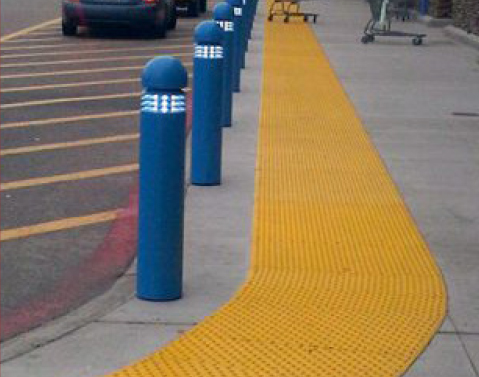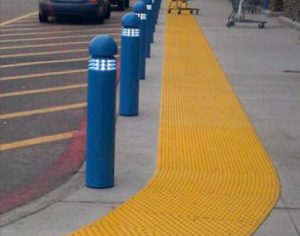 Parking lots and public walkways need to be ADA compliant. As a contractor, knowing how to keep the property owner in compliance with ADA requirements and local ordinances makes you an expert resource, multiplying the value of your work. There is a lot to consider in this endeavor, from accessible parking spaces and wheelchair ramps to flush transitions between pedestrian and vehicular areas.
Our line of Detectable Warning Systems is the solution for flush transitions. These warning mats help alert the visually impaired when they are about to leave a pedestrian area and enter an area with vehicular traffic. Easily distinguishable in yellow, red, black, or gray, the truncated domes on each warning mat meet very specific federal guidelines. And, here's an interesting fact. They were originally called tenji blocks, designed by Seiichi Miyake in 1965. Tenji blocks were first installed in 1967 along a highway near a school for the blind in Japan.
Since then, the Americans with Disabilities Act has developed standards and specifications for the correct usage, positioning, and size of detectable warning systems (click here for more info). Many states have modified the federal installation requirement; therefore, it is important to know the requirements for the state in which you are working. If needed, confer with a certified ADA inspector.
When you have the specifications for your job and are ready to install, contact GemSeal. We supply a complete line of Detectable Warning Mats to contractors, cities, counties, transit authorities, and other governmental agencies. Our solutions work for any retrofit, surface-applied application as well as cast-in-place requirements. For the former, we recommend RediMat™ (a flexible option) or AlertTile® (a semi-rigid design). For cast-in-place, try AlertCast® for superior impact resistance, slip resistance, wear resistance, and long-term durability.
In addition to detectable warning systems, we also supply preformed thermoplastic ADA symbols, stencils, and ADA signs. Please contact your GemSeal representative for more information and pricing.