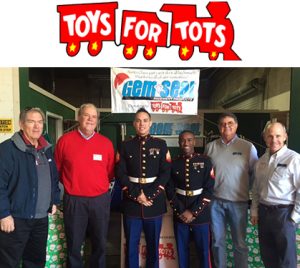 With the contentious presidential election behind us,  the GemSeal team is thrilled that the holiday season has arrived to bring some unity, fellowship, and goodwill back to the country.  Employees of GemSeal are especially drawn to the U.S. Marine Corps Reserve Toys for Tots because it helps less-fortunate children throughout the United States experience the joy of Christmas and unites members of local communities in a common cause. The program strengthens bonds and provides hope to young children—arguably our nation's most valuable resource—with the ultimate goal of assisting them in becoming responsible, productive, and patriotic citizens.
In that spirit, employees in Atlanta hosted their fifth-annual Toys for Tots luncheon for customers on Thursday, December 1, to raise awareness and collect donations for the program. During the event, attendees were treated to delicious, slow-smoked barbeque from Beaver Creek Biscuit Company, home of Carl's blue-ribbon buttermilk biscuits.
All other GemSeal plants and our company home office will also support Toys for Tots this year.  For example, the GemSeal facility in Millbury, MA, has served as a collection site for new, unwrapped toys since October and through next week during an Annual Customer Luncheon held at the Beachwood Hotel in Worcester, MA. The event begins at noon on Thursday, December 15, and will continue until 3:30pm. If you're a customer in the Worcester or Boston area and would like to attend, please RSVP by December 10th by calling 508-791-6366.
All in all, with the combined efforts across the company, GemSeal is hoping to surpass its goal from last year and donate over 400 toys to less-fortunate children in our local communities, resulting in 400 smiles on Christmas morning.
If you are interested in becoming involved with Toys for Tots, please visit the Web site to locate your nearest Toys for Tots program. In addition to toy collection, Campaign Coordinators conduct an array of activities throughout the year, which include golf tournaments, foot races, bicycle races, and other voluntary events designed to increase interest and raise donations.