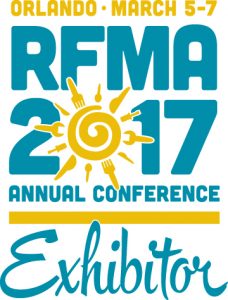 The Restaurant Facility Management Association (RFMA) Annual Conference is next month on March 3-5 in Orlando. GemSeal is participating once again as an exhibitor to showcase our pavement preservation products and to educate restaurant facility managers on the importance of product selection and application process.
For example, savvy restaurant owners know that parking lot maintenance is more than just about selecting a contractor to perform crack sealing. For the right results, the right products and application process must be specified. In addition, developing a specification for your portfolio will help simplify the bidding process.
So, while there will be plenty of paving contractors on the show floor competing to repair your parking lots, be sure to stop by the only pavement products manufacturer to discuss which products and processes are right for your site(s).  Want more reasons to visit GemSeal? Here are the top 3:
3 Reasons to Visit GemSeal Booth 1400
Proven Products – Not all pavement products are the same. Our sealers, striping paints, and crack sealants are engineered to perform in specific climates and for particular uses such as a restaurant's high traffic volume.
Expertise – This year marks a special occasion for our company. We are celebrating 60 years in business, longer than any pavement products manufacturer. Go ahead, challenge our staff with your toughest question; we're confident you'll receive the best advice to make your restaurant properties even more appealing!
Results – When you present a GemSeal pavement specification to your contractor, you will get the results you paid for.
What are you waiting for?  In addition to the expo, there are plenty of learning opportunities including RIF Talks, restaurant round-table discussions, over 25 educational sessions, and several networking events occurring over the course of three days.
For all those restaurant property managers that haven't yet registered, we encourage you to sign up today!
Hope to see you soon in the Sunshine State!