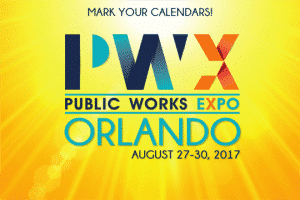 GemSeal is excited to exhibit at the second annual PWX2017 Expo (formerly the APWA International Public Works Congress and Exposition) held in Orlando, FL, on August 27-30, at the Orange County Convention Center. The American Public Works Association or APWA has been bringing together thousands of public works professionals at its annual expo for over 100 years. This show affords us the opportunity to showcase our governmental products and application equipment, network, and gain a better understanding of industry requirements pertaining to pavement management.
In addition to more than 125 technical and professional development sessions, attendees will have dedicated time to explore The Expo Experience, featuring over 400 exhibitors including GemSeal Pavement Products at booth 1853. We are a nationwide manufacturer of pavement products with convenient locations to service your agencies. Our expert staff is eager to help you specify governmental crack sealants and patching products for your next project, including GemPatch, a quality cold-mix asphalt used for instant repairs to potholes and utility cuts in asphalt or concrete surfaces. We also have a variety of application equipment for sale or for rent.
For the educational portion of this trade show, we recommend attending the session, "Pavement Management: Current Tools and Best Practices" occurring on Tuesday, August 29, at 9:45am. This presentation is designed to provide tools and insights to people responsible for managing pavement networks – roads, parking lots, and airfields. Among other objectives, attendees will learn how to prioritize pavement maintenance based on measurable data. Also on Tuesday, there will be a captivating keynote speech delivered by Bob Allen, former Disney Imagineer, about "The Magic of Story — Making the Public Works Story Compelling." After all, everyone is public works plays an essential role in a community's well-being and this session will help attendees better tell the tale.
Other events include networking parties and receptions, workshops, and tours including a behind-the-scenes look at Amway Center, home of the NBA's Orlando Magic.
If you're in the public works sector, we encourage you to attend PWX2017 and, while there, be sure and stop by GemSeal's booth 1853. Don't miss out—register online today.