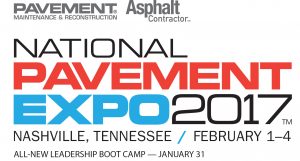 In less than one month, GemSeal will be returning to exhibit at the National Pavement Expo (NPE), the paving industry's largest education and trade conference to be held Feb 1-4, 2017, in Nashville. We know there will be several pavement product manufacturers on the show floor.  So, why make plans to visit GemSeal at booth 1227? We've got five great ones…
Top 5 Reasons to Visit GemSeal Booth 1227
Free Access – Get free access to the exhibit hall when you register using our promo code: GEMSEAL
Expertise – This year marks a very special occasion for our company. We are celebrating 60 years in business, longer than any of the other leading sealer manufacturers! Go ahead…challenge our staff with your toughest question; we're confident you'll receive the best advice in the industry!
Convenience – Place an order with us on the show floor. Or, learn more about our One Stop Shop Stores, located across the country and stocked with everything you need to complete your job.
Special Pricing – We have sales on many products and equipment for show attendees only.
Networking and Fun – Enjoy complimentary food, drinks, and entertainment at the world-famous Wildhorse Saloon; pick up your invite at our booth!
Not convinced?  If you need one more great reason, here it is:  the show has many learning opportunities including eight workshops, five round-table discussions, and 42 seminars occurring over the four day show. Topics range from business management to best practices in crack sealing, seal coating, striping, paving, and sweeping.
What are you waiting for?  For all those contractors that haven't yet registered, we encourage you to sign up today!
Hope to see you soon in Music City!