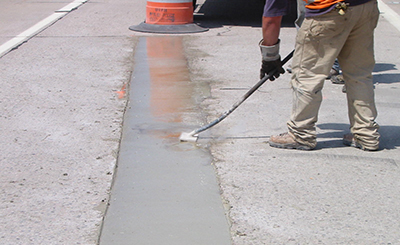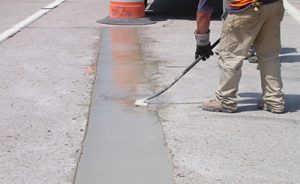 Meteorologists recognize the first day of spring as March 1. And that means, although it still might be chilly where you live, winter is winding down. While most of us welcome warmer weather, for pavement—and concrete in particular—the change in season may reveal uninviting defects such as cracks and, in more severe cases, areas of broken concrete.
Why does this happen?
Concrete is very strong and durable when mixed and applied properly. However, just like asphalt, unsealed concrete is susceptible to water penetration. When water freezes and expands, it causes stress to the concrete structure. In some cases, the stress results in cracks. However, freeze/thaw cycles can force big slabs of concrete to move, lift, crack, and in some cases, spall and come apart in chunks.
What can you do?
Apply mastic material to repair cracked or broken concrete. This load bearing, hot-applied compound provides long-lasting repairs and years of performance to distressed concrete, utility cuts, slab corner breaks and a variety of other pavement repairs. Mastic material is malleable and, once in place, will move with the concrete. Therefore, cracks that have been filled with mastic will remain sealed. The material can also be applied to spalled areas of concrete, effectively tying together sections that may have moved or shifted.
In addition to its versatility, it's an excellent economical option for tight budgets versus reconstruction cost and mastic is easy to install and more convenient than traditional methods. Repairs with mastic do not require a large crew or heavy, costly machinery. Application is quick and the material requires less time to set and opened back up to traffic. Plus it comes in a box so you don't need to go to a concrete plant to get material and you don't have to mix concrete with water and aggregate. You simply heat it up, pour it in place, level it off, and you're done! View this short video for more benefits.
Where can you buy mastic material?
Gemseal has gray mastic (for concrete) and black mastic (for asphalt) available at our One Stop Shop retail stores. We also have mastic application equipment for sale or to rent. Our store representatives are happy to answer any questions about the product and the application process. So, don't delay…stop in today and we'll help you spring to it!