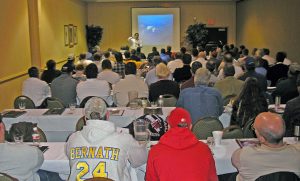 The GemSeal manufacturing facility in Auburn Hills, MI, has hosted well-attended pavement maintenance seminars for several years. Now, our Chicago facility is hosting its first-ever Pavement Maintenance Seminar on Tuesday, March 7, at the Pheasant Run Resort in St. Charles, IL. This educational event will bring together contractors from across the Midwest for education, networking, and to exchange ideas.
This one-day seminar is designed to help contractors stay up-to-date with information on changes in products, application techniques, industry regulations, and equipment.
The event kicks off at 8am and runs until 5pm. There are eight presentations covering topics including product application, business strategy, industry best practices, and equipment. Instructors will provide handouts at every presentation to help supplement learning. For a complete schedule of events, click here.
Plus, there will be over 20 exhibitors and products on display. The expo hall is open throughout the day so attendees can visit at their leisure and talk one-on-one with industry experts. As an added bonus, many products and equipment will be on sale during the event; however, this special pricing is available for show attendees only.
Registration is just $65 per person and includes access to all classroom presentations, exhibit hall, continental breakfast, lunch, refreshments, free gift, and door prizes!
Enroll on or before Feb. 15, 2017, to guarantee your spot.  Register online or call 847-678-6220. We hope to see you there!