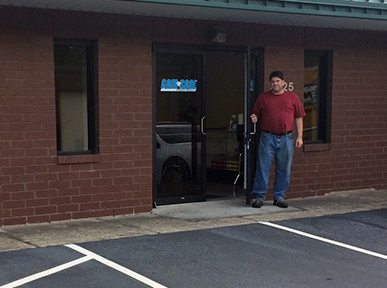 Our GemSeal locations nationwide have been busy this past winter preparing to better serve you. From shopping convenience, equipment financing, and loyalty rewards to expert advice and service, GemSeal is working harder than ever to earn your business.  Continue reading for updates on all of our regional GemSeal manufacturing facilities and One-Stop-Shop retail stores.
Atlanta: Atlanta is in the process of updating our clay silo system.  One of the original silos installed 32 years ago is being replaced and silo number two will be replaced next year.  The One-Stop-Shop retail stores in Atlanta (click for directions) and Norcross (click for directions) continue to be busy, and we have seen a lot of interest in Black Diamond and Black Diamond XL.
Auburn Hills: The region has experienced an unseasonably mild winter which has sparked early activity from our contractors and local public agencies. Many customers are interested in Black Diamond. As a result, during the off season, we ramped up production of this high-performance pavement sealer. The One-Stop-Shop in Auburn Hills (click for directions) now carries over 800 pavement maintenance products, along with a full line of Cimline melters, Graco striping equipment, and sealcoating equipment. We offer both equipment rental and sales with competitive equipment financing. Please contact Heath Carew (734) 634-7703 for all equipment and material inquiries.
Baltimore: Over the winter, we made investments in both our plant and equipment to ensure the highest level of service and quality. Our new One-Stop-Shop in Rosedale (click for directions) is fully stocked with pavement tools, supplies, and materials. We offer bulk sales of both Black Diamond and FedSpec pavement sealers. Stop in and see Katie for a tour and stock up for the season.  We continue to sell industry leading sealcoating and crack filling equipment, now with financing available, as well as equipment rentals.  Contact Doug Gensler (717) 462-3556 or Travis Parrish (610) 721-5239 for equipment sales, demonstrations, and all product offerings.
Boston: Our new One-Stop-Shop is now complete in Millbury (click for directions).  We carry a full line of pavement tools and equipment in addition to our pavement products. Plus, we have a convenient Easy-In/Easy-Out process for picking up bulk sealer, including Black Diamond and FedSpec, as well as other materials. Stop in and see Leo for a quick tour and browse all the new products available.  Our plant in Millbury now has increased manufacturing and storage capacity to meet heightened demand for Black Diamond pavement sealers. And, with numerous requests from customers regarding new equipment, we have expanded our selection and now offer competitive financing.  Contact Job Davis (603) 393-0862 for equipment sales, demonstrations, and all product offerings.
Chicago:  Our team just wrapped up our Pavement Maintenance Seminar in Chicago. The event was well attended and participants benefited from eight presentations ranging from product application and best practices to DOT regulations. Fifteen exhibits were also on display showcasing various products and equipment. Contractor attendees were able to talk directly with well-informed exhibitor representatives to get their questions answered or seek advice. At our Franklin Park One-Stop-Shop (click for directions), we continue to expand our product offering with many new items for sale, including sealcoat application equipment, stripers, blowers, hot pour crack sealants, and support tools. Stop by or call (847) 678-6220 to stock up for the busy season ahead!
Dallas: We are excited to bring new, polymer-modified Black Diamond XL to the Texas market. Our One-Stop-Shop (click for directions) now offers a full line of oil jacketed melters available for rent.  And, we are preparing to host an Open House on March 16th complete with vendors, demos, and a free barbeque lunch!
Memphis: The Memphis location is getting a plant upgrade so we will soon be able to manufacture Fed Spec, PolyTar, and Black Diamond. In the meantime, Bill Wallis looks forward to your call to answer questions and help you solve problems.  His number is (901) 331-2179.  You can also reach Ebony Farris, our plant customer service rep, in the One-Stop-Shop, at (901) 775-2585.
Oklahoma City: We are gearing up for our Open House on March 21st with vendors, demonstrations, products and equipment for sale, and a free lunch. Our One-Stop-Shop (click for directions) continues to remain busy and many customers are taking advantage of our new financing program to purchase equipment.
Tampa: The season in Florida is showing signs of being one of the best ever based on the strong initial sales activity through the end of February.  The plant is very busy making great products and delivering them on time.  We are also in the process of expanding our One-Stop-Shop showroom (click for directions) to house new equipment for sale and for rent.