As of January 2016, GemSeal is independently owned.  With strong financial backing and support, we're working harder than ever to bring more convenience to paving and sealcoating contractors nationwide.
One Stop Shop:
Our one stop shop initiative is designed to provide you with everything you need to complete your job with just one trip to any of our Retail Stores – products, equipment, or advice. Plus, when you shop with GemSeal, you can see and handle equipment before purchasing. Our service promise is: If you need it, we stock it, and if we don't have it, we will get it.  
Store Locations: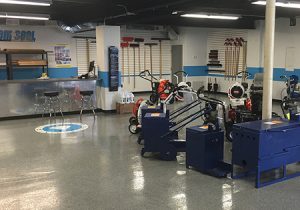 Last year, GemSeal opened our first One-Stop-Shop Retail Store located at 8303 Pulaski Hwy, Suite C , in Rosedale, MD, just outside of Baltimore. The store totals 6,500 square feet and is managed by two full-time employees. Along with GemSeal products, the store sells Graco stripers and Cimline machines. This location is ideal for drive-up customers in the Baltimore area. Plus, it is within close proximity to our manufacturing facility in White Marsh, ensuring ample supply of products at all times. For information, please call 443-231-0625.
Following the success of our first venture, and in response to customer demand, we opened four additional One-Stop-Shop Retail Stores.
Also on the east coast, customers in Worcester, MA, can now easily stock up on every product needed for their paving and sealcoating projects at our store located at 11 McCracken Road in Millbury, located just minutes from our manufacturing facility along the same street. The new store offers fast and convenient access to pick up the supplies you need. For questions, please contact store manager Leo Mongeau at 508-581-7100.
Next, we saw heightened demand in Atanta which prompted us to open a store in Norcross to service all of North Atlanta.  The store, which is located at 4825 Buford Highway in Norcross, is just 22 miles from our manufacturing facility in Atlanta. For assistance, please contact store manager Brian Barker at 770-415-1359.
Moving westward, we set our sights on the Chicago market. To make it quick and easy to stock up on sealer as well as a variety of pavement maintenance supplies, our manufacturing facility located at 10248 Franklin Avenue in Franklin Park, Illinois, opened a retail store and showroom adjacent to the plant. Situated near Chicago O'Hare Airport, contractors from all over the city can benefit from the store's convenient location and large supply of products and equipment including blowers, brooms, brushes, squeegees, and traffic control tools. For information, call 847-678-6220.
And, last but not least, contractors in the central region of the country can stop by or order from our store located at 1628 S. Kelham in Oklahoma City. Since its opening, the store has been well received by existing and new customers alike. If you're in the area, please visit us to speak with our friendly staff, tour the showroom, and preview or purchase equipment. To order by phone, call 405-200-1992.