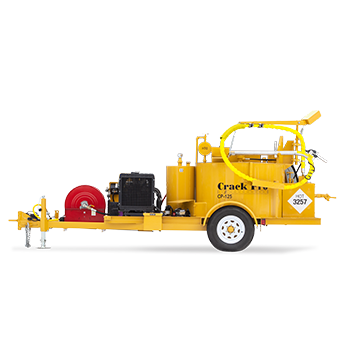 Product Description
The all-diesel powered Crack Pro Heated hose machine offers maximum fuel efficiency for powering its engine and bottom-fired Becket Burner, which heats the crack sealant in an oil-jacketed, ceramic insulated melter. Available in 125- and 260-gallon capacities with single or dual heated hoses, this trailer unit is engineered for maximum safety and efficiency. It is the lowest profile machine in the industry, which allows operators to easily see traffic and pedestrians that may be around the job site. ).  Crack Pro's 18-foot heated hose(s) (also available at 22 feet) allows for application of smooth, pliable crack sealant and eliminates the need for flushing. It's among the industry's lightest hoses, too, which helps reduce operator fatigue. The hose also features a horn to signal the driver to move forward, backward or stop. Crack Pro heated hose machines also feature a battery powered break system that will automatically stop the unit if it would break away from the trailering vehicle. A 16- x 24-inch anti-splash material hatch allows for safer material loading, too.
The Crack Pro DA Heated Hose model features an optional direct-drive air compressor for cleaning cracks. With a Model V1505 Kubota diesel engine, the compressor has high volume air output to quickly and efficiently get the job done. The compressor also has a 100-foot hose—the longest in the industry—with a retractable reel (Crack Pro standard units feature Model 602 and Model 902 Kubota diesel engines
Standard features of the Crack Pro Heated Hose Machine include:
Digital control center with protective cover;
AC gauge to monitor heating of the 18-foot  electric hose (22-foot hose also available);
Electro-hydraulic manifold with flow control for pump and mixer speeds;
Direct-drive, forward and reverse, full-sweep hydraulically driven agitation; and
Torsion type axle with five-lug, tubeless tire.
Download Information
Get a Quote