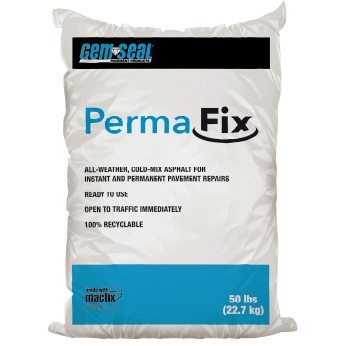 Product Description
Manufactured with special additives to help reduce the risk of reflective cracking, PermaFix provides an immediate, permanent repair. It is easy to place in all-weather climates including cold and wet conditions, has no harmful solvents, has a long shelf life, and is more effective and longer lasting than conventional cold mix asphalt products. PermaFix can be used to repair potholes, utility cuts, driveways, patches, and edge breaks on roads, parking lots, and driveways. Buy Now!
GemSeal PermaFix is a premium formula that is permanent, convenient, versatile, safe, and easy to apply:
Permanent, one-time repair
Protects against freezing/rain/rutting damage
Portable material delivered direct to jobsite
Use in wet or dry conditions (in temperatures down to 15°F)
VOC compliant in all 50 states
No mixing time; ready to use
2-year shelf life
Specifications
Pour a 2″ layer of loose PermaFix into the area to be patched. Level the loose material and then compact to a 1″ layer. Compact with a tamper or a 4 inch x 4 inch post. Place and compact additional layers until desired thickness is achieved. Properly compacted PermaFix will continue to harden over time.
Presentation
Download Info